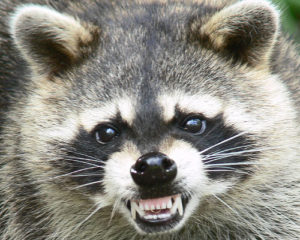 How To Get Rid of Raccoons
Can you hear raccoons in your attic? Have you or your neighbors seen raccoons entering your home at the roof line? If the answer is yes, don't panic.
Secondly don't try to enter the attic and DO NOT try to block up the entry point thinking this will solve the problem. All that will do is trap the raccoons inside your home.
Once trapped they will either find an opening or create one into your living space or make a new hole to go in and out of your attic. If that's not possible they will die inside your home and you will be faced with the expense of finding the dead carcass that is stinking up the entire home. Take my word for it, that will be more expensive than doing the job right the first time.
Getting Rid of Raccoons in Your Attic
The best way to eliminate this problem is to have a pro come out and inspect the situation and in almost all cases the use of a one way tunnel system combined with proofing if needed will solve the problem by allowing the raccoon to exit the home and not re-enter.
We are wildlife removal experts with many years experience. Our work comes with a 5 year guarantee and we stand behind it and want to maintain our 100% satisfaction rate.
Pricing for our one way tunnels and proofing is based on the number of entry points and the amount of proofing need to guarantee your home remains raccoon free. The only way to tell you an exact price is for one of our technicians to visit your home or place of business and inspect the situation.
Estimates are always free and we offer same day service in most cases.
Our Raccoon removal service includes :
Free Estimate.
Complete Inspection.
One Way Exit Tunnels.
Proofing as Required.
Recommendations on repairs needed to remain wildlife free.
Why choose us to get rid of your raccoons?
We can be on your doorstep at short notice – weekdays or weekends, from early mornings right through to late evenings.
We will thoroughly examine your property and assess the problem.
We use the most modern pest removal solutions.
We are Wildlife Experts.
We have the highest standards and reasonable rates.
We accept cash, checks, money orders and credit and debit cards.
To find out more about our Raccoon Removal Services, please call us at (973) 425-5080